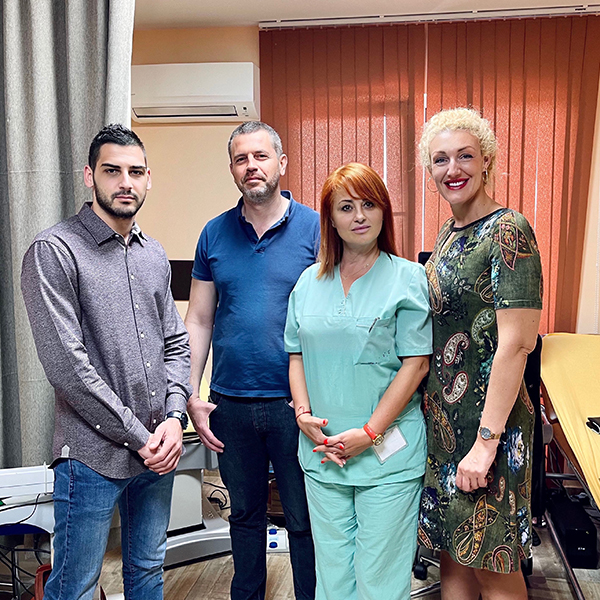 Stara Zagora
New Life Clinic Stara Zagora functions as a reproductive satellite center of New Life Clinic Plovdiv. We offer a full range of services and individual reproductive care for patients from Stara Zagora with the assistance of our colleagues from Medical Center GALEN.
More about Medical Center GALEN
Medical Center GALEN is a medical institution with a high reputation and established name in the region Stara Zagora. The clinic is specialized in Gynecology and Fetal morphology.
The center provides specialists in the field of obstetrics and gynecology, endocrinology, hematology, psychology, laboratory technicians and nurses.
Collaboration with leading specialists in the country to provide their patients with comprehensive medical care and attention.
All activities are performed after obtaining an international certificate, annual audit and using licensed software.
Working with the best software and equipment providers on world level – Astraia, General Electric Voluson E10 BT20, Mindray DC 70 and others.
From the end of May 2021, Medical Center GALEN started cooperation with NEW LIFE Clinic in Plovdiv – the first in vitro center in Bulgaria, which applies Israeli know-how practices in the field of assisted reproductive technologies on the Bulgarian market.
What to expect from our partnership? Procedures in New Life Clinic / Galen Stara Zagora

Diagnosis and treatment of couples with male or female infertility factor and reproductive problems.
Consultations and examinations with a gynecologist – primary and subsequent gynecological examinations, consultations and diagnostics of reproductive problems, treatment of infertility, preparation for IVF and IUI, follow-up stimulation protocol, folliculometry, follow-up of normal and risk pregnancy
Donor programs Consultations
Egg Donation Program

Egg donation is suggested to patients who are candidates for in vitro fertilization but can not produce eggs independently or when there is an issue with their eggs that prevents their fertilization. In such cases, the eggs of a donor woman should be considered.

The New Life Clinic's sperm donor program enables couples with a male infertility factor or women without a partner to realize their dream of having a baby.

IVF consultations

Each in vitro process begins with preliminary preparation and examinations at least a month before starting the procedure.
Through examinations and tests, a complete cycle is monitored, including ovulation period and the changes that occur in your body.

In case you decide to have your in-vitro procedure financed by the Center for Assisted Reproduction (CAR), our consultant in New Life Stara Zagora will fill in and move the documents on your behalf to the Center for Assisted Reproduction (CAR) and will subsequently monitor their status.

At New Life / MC Galen Stara Zagora we conduct all the necessary tests, examinations and follow-up during the stimulation protocol, needed for each in-vitro procedure. You will be required to travel for one day to Plovdiv for the Egg Retrieval and then again after a few days for the Embryo Transfer. All follow-ups from this point on will be done in our clinic in Stara Zagora.

Stara Zagora, 102 Hristo Botev Str., 1st floor, office 1, entrance from Gladstone Street

Registration: +359 887 620 066 Email: agk.galen@gmail.com