Ambassador of the State of Israel Yoram Elron visited medical center for reproductive health New Life Clinic Burgas.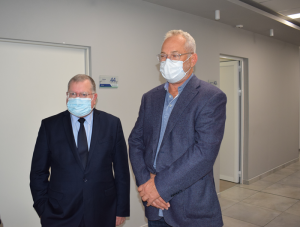 On October 13th, during his first visit to Burgas, the Ambassador Elron were welcomed at New Life Clinic Burgas. He was accompanied by Yordanka Ananieva (Deputy Mayor of the city of Burgas), Dr. Loris Manuelyan ( "Municipal Doctor" of region of Burgas) and Orlin Mandov – Honorary Consul of Israel in Bulgaria. They were greeted by Dr. Darina Davidova leading Obstetrician Gynecologist of our satellite medical center New Life Burgas and Mr. Ran Fuchs – the investor and owner of the medical center.
The Ambassador get acquainted with medical center for reproductive health New Life Clinic – Burgas which functions as the only one reproductive satellite center of New Life Clinic in Plovdiv. The center has been operating since the beginning of the year and provides a full range of services and individual reproductive care to patients from southeastern Bulgaria.
Dr. Davidova and Mr. Ran Fuchs had the opportunity to present to Ambassador Elron all medical services provided in the medical center and all future plans and strategies for development of the clinic in the field of Gynecology. Dr. Davidova also noted that in Burgas region there is no other medical center of this kind offering high-qualified reproductive care and she is pleased to be part of the family and the team of the clinic.
"The biggest Israeli investment in Burgas is in the field of medicine. I hope the Israeli investments in the region to be increased in all areas, but especially in medicine, which is the purpose of my visit here "said the Ambassador.